1,100 WakaWaka's bring free light to Uganda
Energy poverty in Uganda
More than 22 million people live in dire conditions. Many people are uneducated, live in poor housing without electricity and cannot earn an income. It is difficult for many Ugandans to break this cycle of poverty. In addition, many people in Uganda do not have access to electricity, which makes it even more difficult to get out of poverty. In fact, work is no longer possible after dark because stores or workplaces are not lit. And children can no longer do their homework when the sun is down. Families often use petroleum lamps, which are harmful to health and the environment. Petroleum is also currently unaffordable for many households because fuel prices are also rising in Uganda. Where you used to pay 34 cents for a liter of fuel, it now costs 1.32 euros per liter.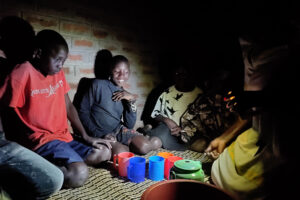 Solar
Solar-powered lighting is a good and affordable high-impact alternative that allows families to work towards a higher income and children to study. Small-scale solar technology such as WakaWaka's also replaces polluting and unsafe petroleum lamps and is also a viable first step towards renewable energy for communities in Uganda.
Habitat and WakaWaka
Habitat for Humanity supports Ugandan families by helping them with safe and decent homes. Habitat also helps them increase their self-reliance and build a livelihood with vocational training and various courses. A solar powered lamp is a perfect complement to this. We are therefore very happy that in recent weeks Habitat has distributed 1.100 WakaWaka's to families without access to electricity. All of these families were already in one of Habitat's projects. The WakaWaka's were distributed at a meeting, where the families were first given detailed instructions on how to use them.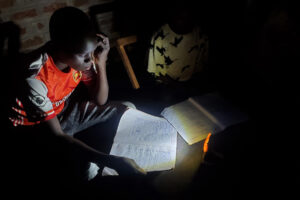 "Without WakaWaka, we would be living in the dark."
Azama and her family were among the 1,100 families who received a WakaWaka in June 2022: "The solar lamp came as a godsend for us in these uncertain times. Our house is not connected to electricity and it was difficult to cook or do homework after sunset because our kerosene lamp does not give enough light. So we had to sit very close to it. Not a safe feeling with such a flammable lamp," Azama said.
With petroleum being so expensive, the family didn't really want to use the lamp anymore. And charging the phone also costs 1 euro a month. The family could barely afford that, too.  Azama is therefore very happy with the WakaWaka Power. "With the WakaWaka I can charge my phone for free, we can finally sit together safely after sunset and the children can do their homework. I also dare to go to the bathroom at night again, because now I have a light to take with me."